Better Than Free
With almost everyone on earth being fed a diet of FREE services by Cloud Computing for so many years, it would be difficult to move people away from the Cloud, unless there is something that is BETTER THAN FREE.
The increasing transfer of the world's information assets (and thus power) from so MANY to so FEW is occurring because the Cloud does bring some benefits to the end users in order to suck them in:
The Cloud is FAST to join and submit your data into BUT have you tried leaving or taking your data out ? Deleting your data is not so fast ?
The Cloud is EASY to use if your follow their rules BUT have you tried changing their operation ? Complaining is not so easy ?
The Cloud is CHEAP when you start BUT what about after you are hooked ? The premium versions are not so cheap ?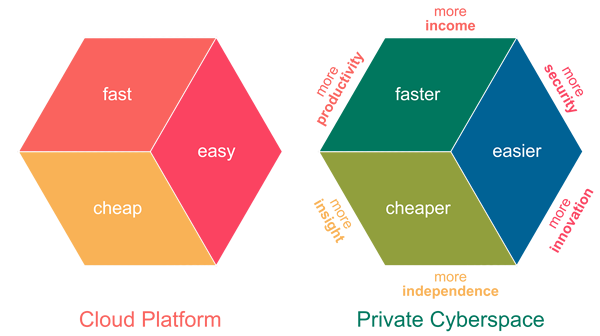 Private Cyberspace does not just deliver compute faster, easier and cheaper than Cloud Platform, it totally transforms how compute is being performed.
There is NO manipulating of users' world view NOR selling users' data to start, but the benefits are much more numerous and go much deeper.
Instead of PASSIVELY living in a digital environment determined by the Cloud, now you can ACTIVELY shape your own Private Cyberspace.
See Clearly, beyond cloud rankings and recommendations.
Think Deeply, without interrupted by cloud notifications and advertisements.
Interact Privately, without cloud monitoring.
Act Freely, without cloud algorithms and rules.
Private Cyberspace adds new dimensions to your digital life that are never possible if your live in the Cloud:
Data that were too private for the cloud can now be analyzed by you.
Automations that were not profitable for the cloud can now be deployed by you.
Control that was given away to the cloud can now be retained by you.
Interruptions from cloud notifications and advertisements can now be stopped.
Views clouded by commercial rankings and recommendations can now be cleared.
Activities in the interest of users instead of cloud can now be performed.
Income from processing and data that were captured by the cloud can now be received.
There are 6 major advantages of Private Cyberspace over Cloud Platforms:
Private Cyberspace's unique fiduciary exchange based Security enables Applications and Infrastructures to be built to deliver Insight, Independence and Income that are not possible on Cloud Platforms, resulting in unprecedented Innovation and Productivity.