Activation
To activate Meet on your Personal Console go to community entity-> Nodes -> Node Set A -> Activate.
The Login ID is automatically assigned. Enter your email address, preferred password, click on the Create User button and wait for the OK confirmation window.
If the User has been successfully created, the Activate button changes to Activated.
Click on the Activated button and the meet URL will be displayed.
Set the Access Code using 6 digits (0-9) and the Moderator Code using 6 lower case alphabets (a-z).
The Access Code is required for participants to join the room where the Moderator Code gives more access to the user, such as sharing the whiteboard or record the meeting.
Usage
Guest
The URL is the shared link that can be accessed by other participants as "Guest" users by putting the Access Code and click on the Enter button.
After the correct Access Code has been entered, the participants can then enter their names. In the example below, the participant uses "guest-ios" as the name.
If the room has been started, the Join button is shown. If the room has not been started, the Start button will be shown.
Moderator
If the Moderator Code is also entered, the guess user will also have a Moderator access. In the example below, the participant name is "owner-android" and the moderator code entered is "abcdef".
In the example below, user owner-android (moderator) shares the whiteboard with user guest-ios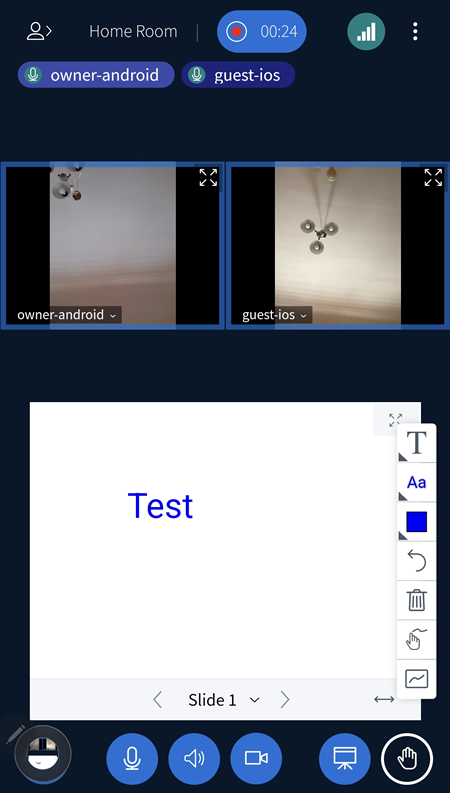 Enabling the audio (mic) and video (camera) is optional. Users with Moderator access can record the meeting by clicking on the
button located at the top of the screen. This button will turn to
when recording.
Depending on the duration of the recording, the recorded file will be displayed a few minutes after the meeting has ended on the Owner's page.
Owner
Users with Moderator Access can record the meeting, however to access the recorded files, the user must
using the email address and password used during activation.
To play a file, click on the
button. The recorded file can also be shared to other users by setting the VISIBILITY from Unlisted to Public.
To email or delete the recorded file, click on the
button