Introduction
Mesh Stations provides the basic communication and storage infrastructure to the community cluster, they form the core network that all other stations rely on for communication and storage.
Mesh Stations give your Private Cyberspace communication bandwidth at revolutionary price points by combining free yet featureful OpenWrt software with low cost yet powerful WiFi router hardware:
1. Mesh Station Positioning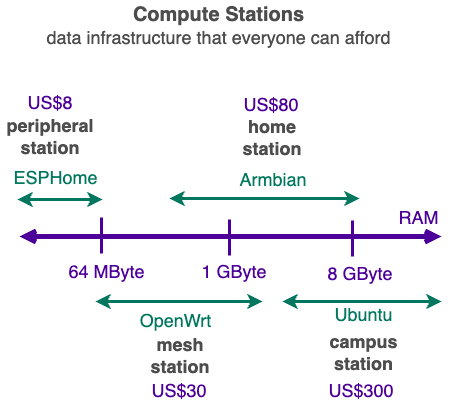 2. Reference Implementation
Mesh Stations are currently based on the Openwrt software, which supports more than 2000 devices, each year we select some as our Mesh Station reference implementation:
MS21 - Mesh Station 2021
MS22 - Mesh Station 2022
MS23 - Mesh Station 2023
Mesh Stations can be very small in size, the MS21 (58x58mm) is SMALLER than a credit card (85x35mm) looking from top, and very low cost at only AU$33.06 shipped.
All Reference implementations are supported worldwide indefinitely (even if they are no longer being manufactured) and can participate in our buy back scheme so some one else can benefit from them when you have finished with them.