Web Console gives you control of your Private Cyberspace through a web browser interface.
To ensure maximum privacy, it can operate OFFLINE without any network connection.
For details please visit Web Console page.
1. Basic Menu
The Basic Menu can be accessed by clicking the Display Menu button in the Upper Left corner.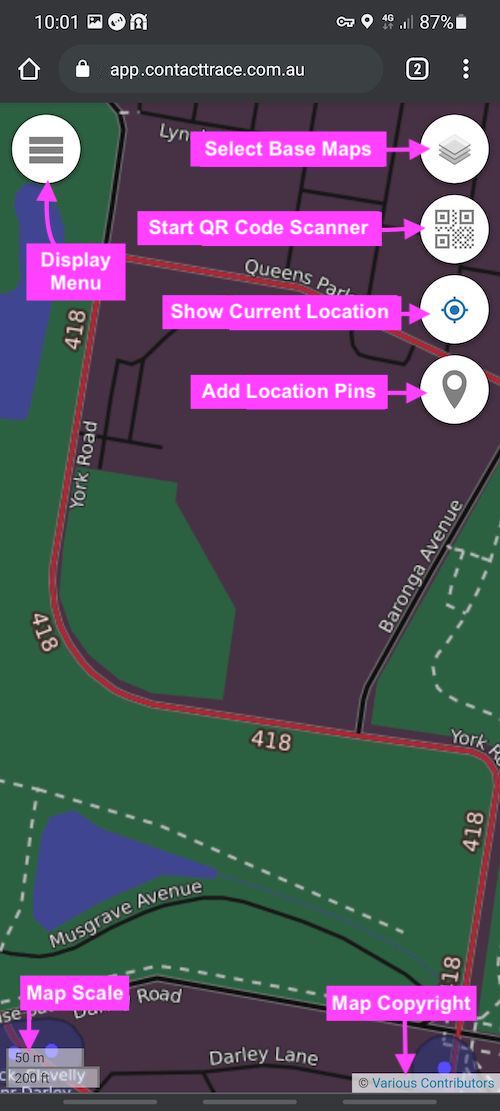 The Basic Menu is very short and shows only major Feature Buttons that deliver basic functionalities as well as a HELP button.
You can switch to a more advanced menu by clicking on the HELP button and selecting ADVANCE MENU from there.
Advanced Menu
The Advanced Menu contains
Frequently used Feature Buttons (from each loaded Project) on top
Project Buttons (listing out all loaded Projects) in the middle
Standard Buttons (that come with all Web Consoles) at the bottom
Menu Items listed below with
# is available only to Guest Aliases (Share)
^ is available only to Member Aliases (Change)
Feature Buttons
VIRTUAL VACCINE
| 0 | 1 | 2 | 3 | 4 | 5 |
| --- | --- | --- | --- | --- | --- |
| 1 | VIRTUAL VACCINE | Neighbours | --- | --- | --- |
| 2 | VIRTUAL VACCINE | Status > | --- | --- | --- |
| 3 | VIRTUAL VACCINE | Check < | --- | --- | --- |
| 4 | VIRTUAL VACCINE | Receive Message | --- | --- | --- |
| 5 | VIRTUAL VACCINE | Send Message | --- | --- | --- |
| 6 | VIRTUAL VACCINE | Data | 1. Vaccination | Share | --- |
| 7 | VIRTUAL VACCINE | Data | 1. Vaccination | Store | --- |
| 8 | VIRTUAL VACCINE | Data | 1. Vaccination | List | --- |
| 9 | VIRTUAL VACCINE | Data | 2. Test | Share | --- |
| 10 | VIRTUAL VACCINE | Data | 2. Test | Store | --- |
| 11 | VIRTUAL VACCINE | Data | 2. Test | List | --- |
| 12 | VIRTUAL VACCINE | Data | 3. Quarantine | Share | --- |
| 13 | VIRTUAL VACCINE | Data | 3. Quarantine | Store | --- |
| 14 | VIRTUAL VACCINE | Data | 3. Quarantine | List | --- |
| 15 | VIRTUAL VACCINE | Data | 4. Symptoms | Share | --- |
| 16 | VIRTUAL VACCINE | Data | 4. Symptoms | Store | --- |
| 17 | VIRTUAL VACCINE | Data | 4. Symptoms | List | --- |
| 18 | VIRTUAL VACCINE | Data | 5. Risks | a. Vulnerability | --- |
| 19 | VIRTUAL VACCINE | Data | 5. Risks | b. Hotspots | Point Map |
| 20 | VIRTUAL VACCINE | Data | 5. Risks | b. Hotspots | Area Map |
| 21 | VIRTUAL VACCINE | Data | 5. Risks | c. Current | --- |
| 22 | VIRTUAL VACCINE | Data | 5. Risks | d. Past | --- |
DAILY MAP
| 0 | 1 | 2 | 3 | 4 |
| --- | --- | --- | --- | --- |
| 1 | DAILY MAP | 1. Display Pins | --- | --- |
| 2 | DAILY MAP | 2. Filter Location | --- | --- |
| 3 | DAILY MAP | 3. Location Files | Read from Phone | --- |
| 4 | DAILY MAP | 3. Location Files | Save to Phone | --- |
| 5 | DAILY MAP | 3. Location Files | Export to Server | --- |
Project Buttons
1. Fiduciary Exchange
0
1
2
3
4
5
1
Fiduciary Exchange
1. Nodes
Input
---
---
2
Fiduciary Exchange
1. Nodes
Output
---
---
3
Fiduciary Exchange
1. Nodes
Directory
---
---
4
Fiduciary Exchange
1. Nodes
Storage
---
---
5
Fiduciary Exchange
1. Nodes
Process
---
---
6
Fiduciary Exchange
1. Nodes
Support
---
---
7
Fiduciary Exchange
1. Nodes
Legacy 1
---
---
8
Fiduciary Exchange
1. Nodes
Legacy 2
---
---
9
Fiduciary Exchange
2. Alias
Create Alias
---
---
10
Fiduciary Exchange
2. Alias
Import Alias
---
---
11
Fiduciary Exchange
2. Alias
Import History
---
---
12
Fiduciary Exchange
2. Alias
Export History
---
---
13
Fiduciary Exchange

#3

. Wallet

#Create

Wallet
---
---
14
Fiduciary Exchange

#3

. Wallet

#Key

#Delete

---
15
Fiduciary Exchange

#3

. Wallet

#Key

#Add

---
16
Fiduciary Exchange

#3

. Wallet

#Address

---
---
17
Fiduciary Exchange

#3

. Wallet

#Signature

#Delete

---
18
Fiduciary Exchange

#3

. Wallet

#Signature

#Add

---
19
Fiduciary Exchange

#3

. Wallet

#Chain

---
---
20
Fiduciary Exchange

#3

. Wallet

#PrivateKey

---
---
21
Fiduciary Exchange

#4

. Details
---
---
---
22
Fiduciary Exchange

#5

. Notification

#Message

#Send

---
23
Fiduciary Exchange

#5

. Notification

#Message

#Receive

---
24
Fiduciary Exchange

#5

. Notification

#Ringtone

#Create

---
25
Fiduciary Exchange

#6

. Identity

#1

. Attached Identity

#Phone

Number

#Register

26
Fiduciary Exchange

#6

. Identity

#1

. Attached Identity

#Credit

Card

#Register

27
Fiduciary Exchange

#6

. Identity

#1

. Attached Identity

#Driver

Licence

#Submit

28
Fiduciary Exchange

#6

. Identity

#1

. Attached Identity

#Global

Block

#Submit

29
Fiduciary Exchange

#6

. Identity

#1

. Attached Identity

#Last

ISP

#Submit

30
Fiduciary Exchange

#6

. Identity

#1

. Attached Identity

#Local

Block

#Submit

31
Fiduciary Exchange

#6

. Identity

#1

. Attached Identity

#Medicare

#Submit

32
Fiduciary Exchange

#6

. Identity

#1

. Attached Identity

#Venue

#Verify

33
Fiduciary Exchange

#6

. Identity

#2

. Check Identity

#Search

---
2. Geo Position
| 0 | 1 | 2 | 3 | 4 | 5 |
| --- | --- | --- | --- | --- | --- |
| 1 | Geo Position | 1. Nodes | --- | --- | --- |
| 2 | Geo Position | 2. Community | --- | --- | --- |
| 3 | Geo Position | 3. Outdoor | a. Area Browser | --- | --- |
| 4 | Geo Position | 3. Outdoor | b. Map Browser | --- | --- |
| 5 | Geo Position | 4. Indoor | a. Level Browser | --- | --- |
| 6 | Geo Position | 4. Indoor | b. Floorplan Designer | --- | --- |
| 7 | Geo Position | 4. Indoor | c. Distance Measure | --- | --- |
| 8 | Geo Position | 5. Transport | a. Speed Limit Map | --- | --- |
| 9 | Geo Position | 5. Transport | b. Public Transport Map | --- | --- |
| 10 | Geo Position | 5. Transport | c. Speed Limit Alert | --- | --- |
| 11 | Geo Position | 5. Transport | d. Geofencing Alert | --- | --- |
| 12 | Geo Position | 6. Venue | 1. Attached Identity | Venue | Verify |
| 13 | Geo Position | 6. Venue | 2. Check Identity | #Search | --- |
3. Home Digital Hub
| 0 | 1 | 2 | 3 | 4 |
| --- | --- | --- | --- | --- |
| 1 | Home Digital Hub | 1. Nodes | Satellite | --- |
| 2 | Home Digital Hub | 1. Nodes | Home | --- |
| 3 | Home Digital Hub | 2. Calendar | --- | --- |
| 4 | Home Digital Hub | 3. Task | --- | --- |
| 5 | Home Digital Hub | 4. Relation | --- | --- |
| 6 | Home Digital Hub | 5. Avatar | --- | --- |
| 7 | Home Digital Hub | 6. Speech | --- | --- |
| 8 | Home Digital Hub | 7. File | ^File Url | --- |
| 9 | Home Digital Hub | 7. File | ^User Information | ^Create User |
Standard Button
HELP v22021501
| 0 | 1 | 2 | 3 |
| --- | --- | --- | --- |
| 1 | HELP | 1. Introduction | --- |
| 2 | HELP | 2. Get Support | --- |
| 3 | HELP | 3. Mobile App | Mobile App / Download iOS App |
| 4 | HELP | 4. UPDATE VERSION | --- |
| 5 | HELP | 5. BASIC MENU | --- |