1. Introduction
Contact Trace Australia (contacttrace.com.au) is an Application Provider in Australia developing and packaging Private Cyberspaces applications.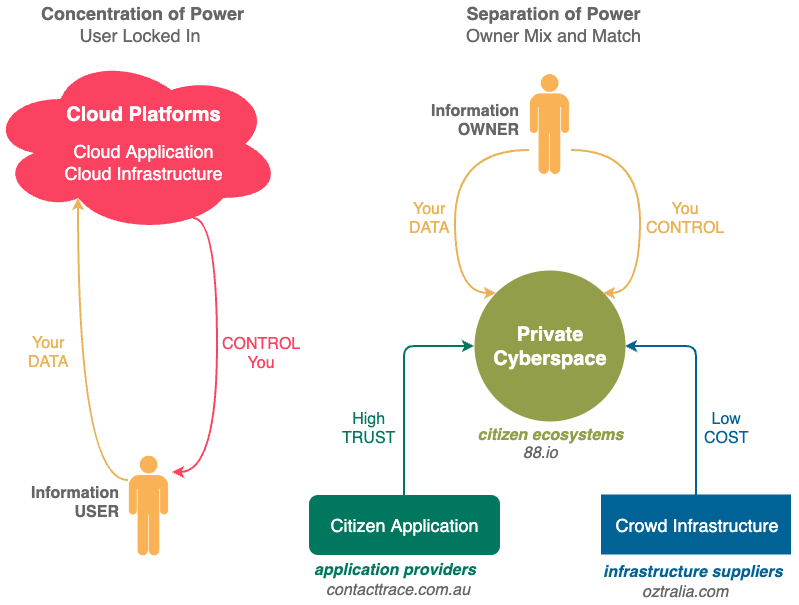 As an Application Provider Incubator, we also assist other Application Providers worldwide in developing and packaging applications in their own countries.
Currently, we can providing support in English, Korean, Mandarin, Cantonese and Indonesian.
2. Personal Console
Contact Trace Australia (contacttrace.com.au) is an example of an Application Provider that provides general purpose Private Cyberspaces to people who live in New South Wales Australia with a focus on collecting and generating value from owner's movement data.
Contact Trace Australia in about building up location based information assets in your Private Cyberspace, so our Personal Console (available at https://app.contacttrace.com.au) is built around an online map.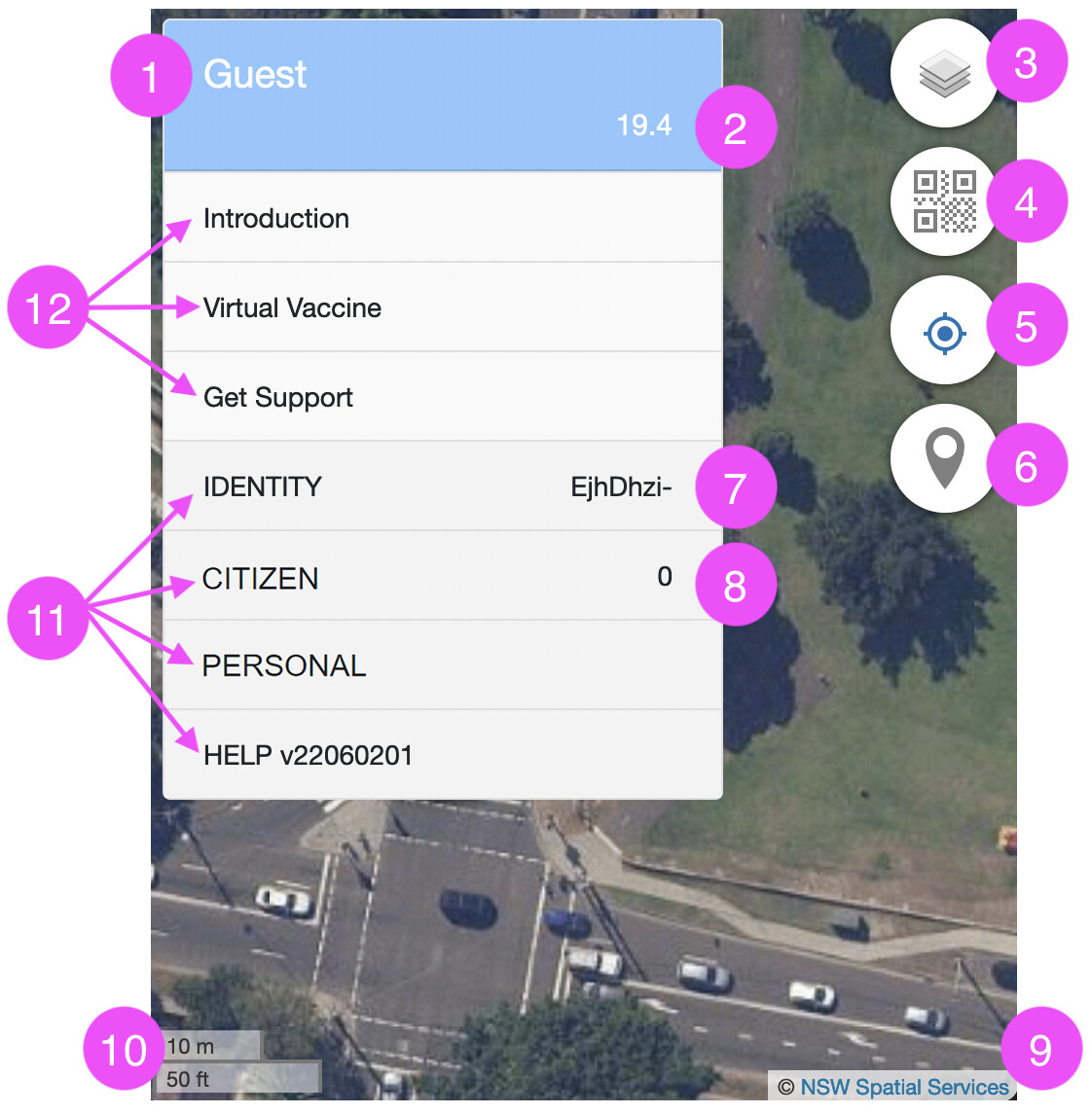 | Personal Console displayed | after First Installed |
| --- | --- |
| 1 . Alias Type | 2 . Zoom Level |
| 3 . Background Map | 4 . Camera Scanner |
| 5 . Current Location | 6 . Location Pins |
| 7 . Dynamic Alias | 8 . Number of Alerts |
| 9 . Map Copyright | 10 . Map Scale |
| 11 . Application Menu | 12 . Notification List |
3. About Us
Contact Trace Australia is a business under Knowledge by Design Pty. Limited (ABN 72052359725).
We are currently rebuilding our old web site web.contacttrace.com.au which we expect to finish in March 2022. In the meantime you can:
Post on our forum (preferred communication method):
Contact Trace Discussions

Email us at
info@contacttrace.com.au

Contact us via phone, fax or sms on
+61488843733.

Send postal mail or physically visit us at
Suite 303-306, 683 George Street, Haymarket NSW 2000, Australia
To get support, please visit our Support Page.
4. Virtual Vaccine
As our Copntact Trace Australia business name implies, our initial focus is supporting the Virtual Vaccine application in Australia, but we will be increasing our support to the other 2 applications in the future.
The development statuses of all those applications are available at 88.io Timeframes.
Some Australian specific customisations we performed on our service so far include:
5. Application Provider
Organisations that provides applications to Private Cyberspaces are called Application Providers.
As a applicaiton service provider Contact Trace Australia sits at the bottom of the Citizen Ecosystem's 4 layer structure:
Application Providers are the local people you deal with everyday in your country, if you don't know something (anything) we are your first point of contact!
The application service we have put together for Australia, app.contacttrace.com.au, currently has 2 citizen applications integrated:
As we are 88.io's first application service provider, so if you go to 88.io you will come to app.contacttrace.com.au but that will change as more service providers join 88.io. Newbies will be sent by 88.io to their closes Application Service Providers.