88.io Barcode Client runs in a web browser (e.g. on Android and iOS phones) without needing installation of any Apps. It scans only on the phone ensuring maximum privacy.
1. Barcode Format
1D Barcode formats currently supported:
Codabar
Code 128
Code 39
Code 39 VIN - use for Vehicle Identification Number
Code 93
EAN-8
EAN-13
EAN Extended - use for serial books EAN13 + UPC5
Interleaved 2 of 5
Standard 2 of 5
UPC-A
UPC-E - compressed UPC-A
Default barcode format is EAN-13.
The older UPC-A format, still in common use, is automatically converted to EAN-13 by adding a zero "0" in front.
2. Barcode Size
For trouble free scanning, barcodes should follow the relevant standards e.g. EAN-13 barcodes should have the following:
Minimum Width 26mm
Minimum Height 19mm
Minimum Left and Right Clearance 3mm
Top and Bottom Clearance 3mm is preferred but not required.
3. Camera Use
The phone's built in camera will be used to capture the barcode.
The barcode lines MUST be parallel to the SHORT side of the camera view.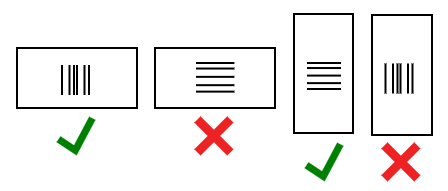 The barcode image should be Large and Clear (zoomed in and sharply focused)
If the phone camera performance is poor, the Barcode Client can alternatively accept images from other sources (e.g. SMS, Bluetooth, AirDrop etc.) uploaded from the phone's file system.