Improve Quarantine Effectiveness
Instead monitoring and isolating visitors AFTER they have arrived, Citizen Assisted Contact Tracing can increase quarantine capacity and reduce risks by FORWARD monitoring and isolating visitors BEFORE they have crossed borders, entered premises, boarded planes.
As a visitor travels across multiple borders, the International Fiduciary Exchange provides a single trusted information source for different governments while protecting the privacy of the traveller. Information sharing problems between governments due to different privacy, health and security laws are substantially reduced.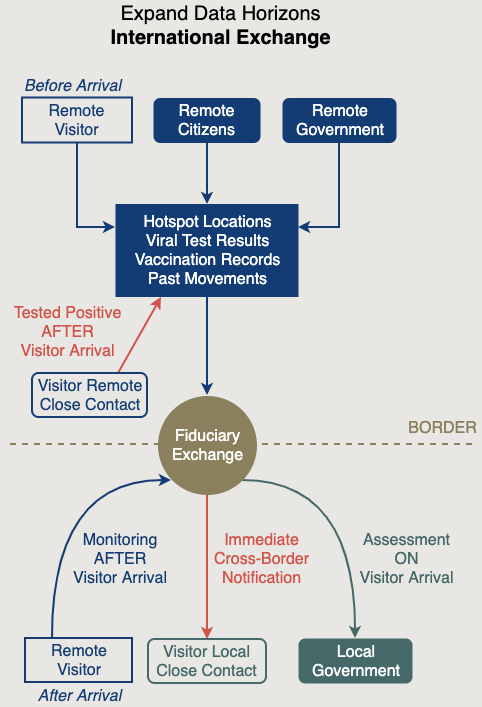 Local governments can access to massive amounts of data contributed by remote citizens and governments, subject to rules defined by the contributors and enforced by the Fiduciary Exchange. For example, to perform a risk assessment of an incoming visitor on arrival to determine whether hotel isolation, home isolation, offensive monitoring or defensive monitoring is required.
Remote Home Quarantine is now a possibility, a selfie photo taken and submitted by Personal Map with both the visitor's face and a TV screen can be matched with the recordings of the same TV channel done by Fiduciary Exchange independently to confirm that the visitor was really next to a certain TV at certain time.
With different vaccine effectiveness against different variants for different durations, Citizen Assisted Contact Tracing can provide a catch all safety net complementing Vaccination Passports.