Information Entity enables Private Cyberspaces to identified and located outside of the traditional DNS.
Revolutionary way of building up your information assets by logging EVERYTHING about your life in the most private and productive manner.
Experience how population scale collaboration can be performed in realtime safely and efficiently.
Solve the biggest problems facing humankind with just ONE CLICK.
Get rewarded for contributing to improved quality of EVERYONE.
Live demonstrations available:
Collect Everything
The superior privacy provided by your own Home Digital Hub means you can securely collect and store everything at home everything about yourself without worry, from your weight displayed this morning on the bathroom scale to video you have watch last night in bed.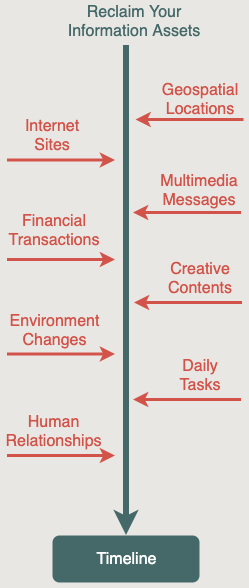 1. Introduction
You can add Home Compute Exchange to your Private Cyberspace so you can host applications at home with confidence.
The Home Compute Exchange has been designed to protect your privacy and to leverage readily available excess compute capacities outside of your home.
The Home Compute Exchange enables everyone (from neighbours next door to strangers thousands of kilometres away) to aggregating their resources through Crowd Infrastructure technologies.
The focus is to overcome traditional problems with hosting information technology infrastructure at home by