1. Introduction
Currently DATA is given to those with COMPUTE power.
88.io gives COMPUTE power to those with DATA.

As a Citizen Ecosystem, 88.io is about
distribution of power to the citizens (with Private Cyberspace)
facilitation of collaboration between citizens (with Citizen Synergy)
Our mission is to solve the world's toughest problems using those 2 steps. So far we have applied them to problems like COVID-19, centralisation of the internet, manipulation of public blockchains etc.
2. Partnering
Partners we need, 88.io is about making one dent in the universe but many. An whole ecosystem is large and complex
As a citizen ecosystem covering all aspects of our lives, working to improve 88.io can be daunting.
Unlike end users there is no ONE CLICK to fire up the Web Console on your phone and no ONE COMMAND to deploy a Disposable Node at home.
We are currently developing an Ubiquitous Partnership program to encourage everyone to contribute in any capacity at any level as they like.
3. Entrepreneur
A new computing paradigm that takes advantage of big data without creating centralised power.
Tap into the unlimited capabilities of the world's population!
Take advantage of millions of mobile phones as a single massive computing resource instead of just a data source.
Build you new idea with crowd-owned computing instead of just crowd-sourced data.
Get in on the ground while this tech is in early phase of development, help shape it future.
4. Regional Coordinator
Citizen Ecosystems are based on Active Citizens working together in at all levels. The Regional Coordinator enables all of them to work together seamlessly.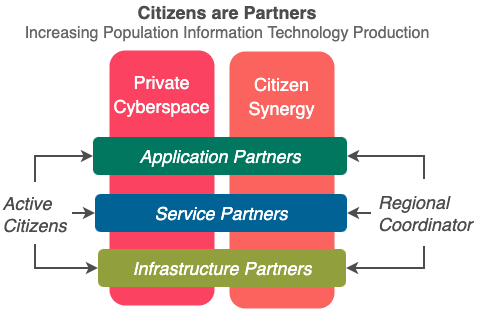 Unlike a "platform" where everyone depends on, there is no single point of dependence in an ecosystem. Regional Coordinator does NOT get involve with the day to day operation of the ecosystem. If the Regional Coordinator disappears or gone bad, everyone can just coordinate amongst themselves and continue as before.
We are currently setting up 3 demonstration regional coordinators in Australia, China and United States of America. Note these are DEMOs, they are not real, we expect local citizen ownership of all real Regional Coordinators.
4.1. Coordinator Purpose
The Regional Coordinator holds intellectual property rights related to citizen information ecosystems within a region.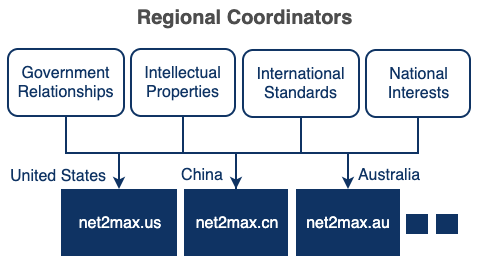 The Regional Coordinator aims to maximise Individual Dignity, Social Equity and System Quality in every ecosystem it coordinates. Most cyberspaces, even large cyberspaces with own staff, from a closed cyberspace like department of defence to an education cyberspace for primary schools, can benefit from common coordination of some form in the country they have equipment on (they operate under that country's laws).
The Regional Coordinator helps set interoperability guidelines within the region and at an international level. It promotes deep country and population specific customisations to the ecosystems, ensuring that the ecosystems not only follow all local laws but actually improves the wellbeing of local citizens.
4.2. Coordinator Structure
In return for the nationwide coordination, coordinators receives an income. Generally, there is a charge on profits made within the ecosystem instead of usage of the ecosystem.
In general, the National Coordinator is an independent legal entity (e.g. a company) with the ultimate aim of the citizens in the country holding the majority of its shares.
5. Service Partners
The Service Partner program is designed specifically to encourage non-technical people to get started in tech by empowering them to build up local community based information infrastructures and capabilities.
Our Thin Service technology enable local communities to deploy their own services.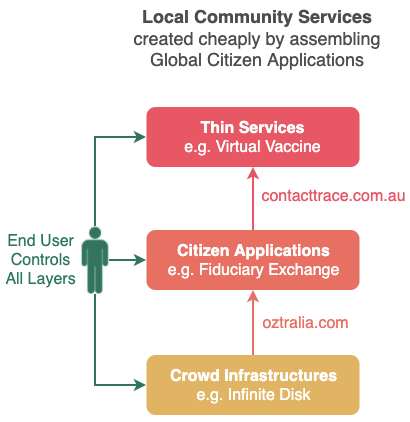 At the Service Partner level, we are particularly interested in working with non-technical people from a wide range of backgrounds.