Traccar iOS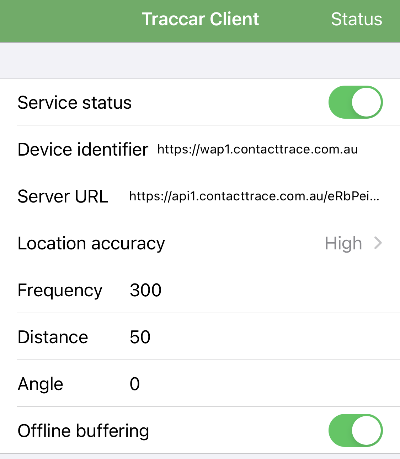 Traccar Client App can be used to log your movement in real-time to the Fiduciary Exchange. Other apps may work if they also use the osmand format).
iOS Traccar App Installation (1 minute 41 seconds long)
The Traccar iOS App can be downloaded from https://app.contacttrace.com.au under the "Location" menu [show image] and "Traccar App" [show image]
Once installed, please configure Traccar [show image]. For more details about the "Server URL" please visit https://web.contacttrace.com.au/personal-map/
After putting all the correct values, change the Service Status to ON. A pop-up window will appear [show image], Select "Allow While Using App".
Tap on Status on the top right hand corner. If you see "Location Update" [show image], that means the Traccar Client has been configured correctly.