To be updated
Citizen Timeline Menu
Community Cluster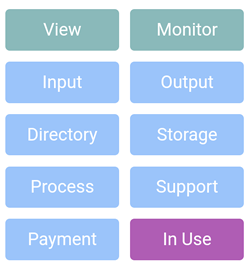 Three sets of clusters are available and they all have identical submenus. Cluster Set defines the Cluster used and by default, Cluster A is the active cluster in use.
Tree Listing
1. Status Block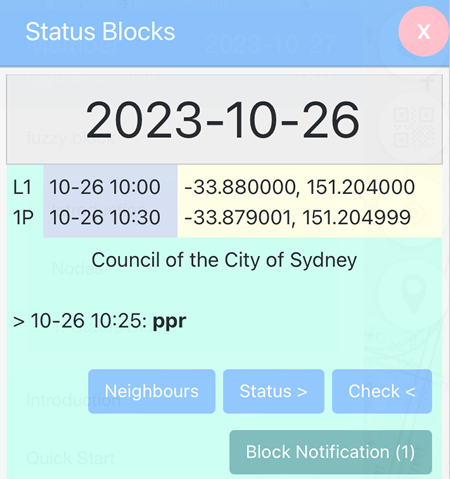 Neighbours: is the surrounding latitude and longitude of the location pin.
Status: to submit a status. In the example above, the status submitted is ppr which is positive PCR test result on October 26th.
Check: shows all status submitted in the area during the same 30 minute time block.
Block notification: set up a ringtone notification based on the status submitted.
2. Status Broadcast
a. Position Broadcast
This is the place to create or replace the Relay Server URL which is needed by the Tracking Apps such as:
If a session has been created, the Session ID and the Relay Server URL will be displayed (a Guest or a Member alias required). By default, the Session ID is the Username and the Password for Home Assistant (the password is recommended to be changed after connected for the first time).
b. Private View
Private View is mainly for the account holder to view all tracking sessions (current and past), so it is not to be shared with others.
c. Public view
Public View is the tracking session that can be shared to others.
3. Virtual Vaccine
1.1 Vaccination
Share, store and list the vaccination types and dates.
1.2 Test
Share, store and list the PCR and/or Rapid Antigen test and dates.
1.3 Quarantine
Share, store and list the Quarantine Start Date and End Date.
1.4 Symptoms
Share, store and list the Symptoms including the Start Date and the End Date.
1.5 Risks
Display areas of Covid positive cases in the last 28 days.
1.6 Masks
Share, store and list the types of Mask used.
1.7 Share
Share the type of identity and fuzziness.
4. Government Area
5. Location Correction