1. Raspberry Pi Zero W
Mesh Stations running the Raspberry Pi OS are called Raspberry Mesh Stations. Like other Mesh Stations they are ultra low cost and generally have less than 2GByte of random access memory (RAM).
The Raspberry Pi Zero W is the Reference Mesh Station for the Private Cyberspace 20.12 release.
Raspberry Pi Zero W measures only 65mm by 30mm, but has a lot of features.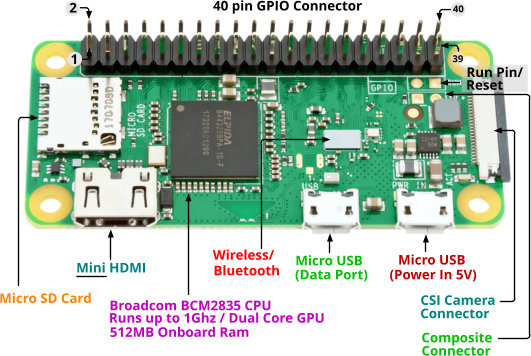 image source: micro robotics
As of September 2023, Raspberry Pi Zero W should be available cheaply in reasonable quantity worldwide.
1.1. Zero WH
A slightly more expensive version called "Raspberry Pi Zero WH" is just a "Raspberry Pi Zero W" but WITH headers soldered on (thus the extra H at the end of the name).

The above image shows a Raspberry Pi Zero W next to a Raspberry Pi Zero WH, both mounted according to our novel Spacer Wall design.
Although headers are NOT required in most use cases, when given a choice it is best to pick the Zero WH, so the 40 expansion pins can be used to attach peripherals instantly.
1.2. Zero 2 W
An improved Raspberry Pi Zero 2 W model has been released but it is in very short supply.
Similarities
Memory size (512MB)
Physical size (65mm x 30mm)
WiFi Frequency (2.4GHz)
Connectors (2 micro-USB, 1 mini-HDMI, 1 CSI-2)
Differences
Zero 2 W has a 64-bit 4-core processor
Zero W has a 32-bit 1-core processor

Zero 2 W has Bluetooth 4.2
Zero W has Bluetooth 4.1

Zero 2 W has no microSD limit
Zero W has 256GB microSD limit

Zero 2 W produced until at least Jan-2028
Zero W produced until at least Jan-2026
A more detailed comparison is available
Zero 2 W and its header version Zero 2 WH may be used as future Reference Mesh Stations but currently, only the Zero W and Zero WH models are being used as the 20.12 Reference Mesh Station.
1.3. Dimension
Raspberry Pi Zero W is light and small, besides the "standard" positioning on the window sill, it can be deployed almost anywhere e.g. stick on to the window glass with adhesive tape or throw into a backpack with a battery pack.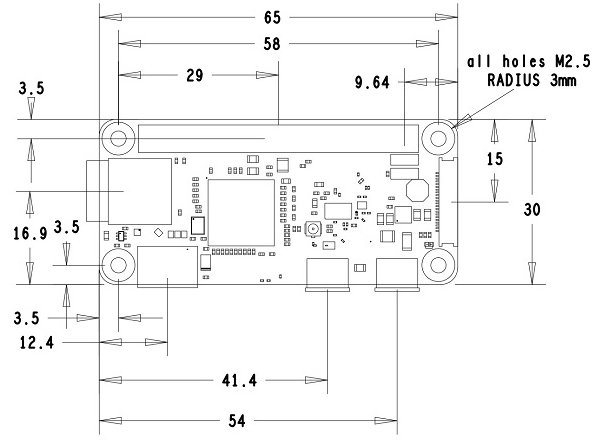 1.1. Comparison with Other Mesh Stations
In order to deploy billions of Mesh Stations (e.g. having a Mesh Station sitting on the window sill of every room in the world) the Raspberry Mesh Station has been designed with extreme low cost in mind.
due to the scale of its deployment.
We are talking about tens of billions of devices , saving just 10 cents is a billion dollars.
1.2. Comparison with Mobile Station
2. Wireless Performance
Frequency Band
Rpi0w only has a 2.4GHz wifi radio that is NOT capable of running as a mesh
Antenna Pattern
Zero W uses a resonant cavity antenna design from Proant to reduce cost.
Raspberry Pi Foundation will not release the antenna pattern freely to the public (needs signing some documents), luckily Carl Turner has measured the antenna pattern and published it freely!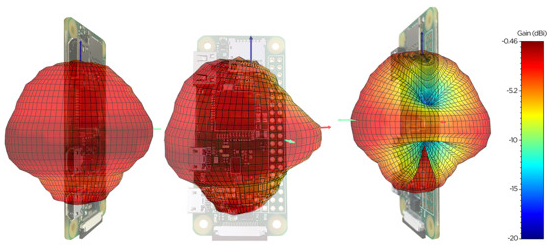 Note from the pattern that the radio signal on the header side is rather weak, which our