Infinite Disk removes the COST barrier to RELIABLE data storage by leveraging community idle capacities (e.g. unused disks, bored retirees), reusing broken devices (e.g. laptops with faulty screens and keyboards) and taking over data income from the Cloud.
1. Store Everything
RAW data storage is cheap, the expensive part is making that storage RELIABLE so that it is fast, secure, expandable and always available.
A lifetime video of a person across a period of 90 YEARS at 2 frames per second for 18 hours a day using H265 codec at high definition (720p) with medium quality only takes up 5.85 TByte of raw storage.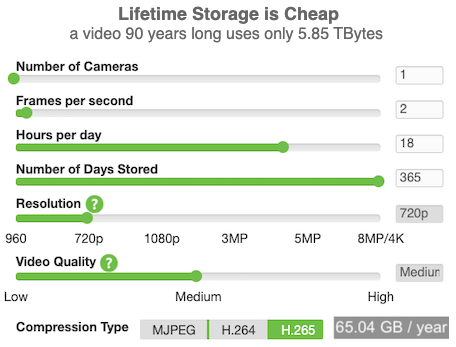 In December 2022, a 6 TByte hard disk costs only AUD163.12 delivered, with a 6 years replacement schedule (median hard disk life expectancy is 6.75 years) the cost is about AUD 6.2 cents a day. Replacement cost after 6 years should be lower or at least be the same, as storage cost tend to drop faster than inflation.
To provide transparent, no downtime, self-healing in cases of system or human failures (which will definitely occur), Infinite Disk only needs a redundancy overhead of about 40% extra storage. Other operation overheads like labour, bandwidth, electricity etc. are also reduced with citizen synergy technology. The total cost of a RELIABLE 6 TByte of storage is expected to be under AUD 13 cents a day in Australia.
Infinite Disk has been designed to deliver traditionally expensive RELIABLE STORAGE at raw storage prices like a whole lifetime of storage for LESS than AUD 13 cents a day.
2. Retain Control
The first step in OWNING information assets is putting your data on YOUR device, but there is only so much data that your mobile phone can hold, this is where Infinite Disk come in.
Infinite Disk allows you to store all your digital assets safely on external devices owned by others yet lets you retain full control.
Infinite Disk solves traditional problems of storing data at home (e.g. network is unreliable, hardware is limited, finance is tight, site is insecure, support is scarce) by empowers large numbers of citizens to work TOGETHER to provide each other with private storages that have substantially lower cost, better privacy, more reliability, higher capacity and faster performance than current cloud storage.
Infinite Disk is the only storage technology with the capacity, reliability, flexibility, security, affordability and usability to handle ALL your data across ANY application.
Start by adding 1TByte (yes, one terabyte) to your mobile phone and expand as you go. Infinite Disk underpins your Private Cyberspace's ability to keep your data safe and available 24x7 at breakthrough costs.
As the owner of the data, Infinite Disk gives only you total control of traditionally enterprise classed storage technologies scale the price performance of your storage.
1. Infinite Capacity
For the first time in history you can now access enough storage capacity from the comfort of your home to store every single moment of your life AND store information about everyone and everything you care about.
Unlimited capacities of the right performance and size to match your different applications can be added progressively as needed.
2. Infinite Reliability
For the first time in history, you can protect your data by encrypting them and storing them anonymously on thousands of sites.
Your data are stored seamlessly across three independent storage regions - on your device, on campus, on internet.
Hardware will fail, network will disconnect, Infinite Disk's self-heal and offline capability means your cyberspace and your digital life are not impacted when they occur.
Increase redundancy for your most precious photos, reduce redundancy levels for the movies you can download again at any time.
Infinite Security
Such a storage underpins the possibility of private Cyberspace
removes ALL barriers (like support, security and reliability etc.) preventing citizens from taking advantage of the continuously improving price performances of modern data storage (from NVMe to HDD) in their homes.
A private data storage driven by you from the security of your home that is cheaper, faster and more reliable than any other storage available.
Current machine learning based Artificial Intelligence (AI) relies on having a lot of data to train on. Controlling the data is the first step in controlling AI.
Infinite Disk gives citizens large amount of secure, low cost and reliable data storage to store and train their own AI exclusively, so they can control AI instead of the other way round.
Ease of Use
To achieve a high degree of ease of use, Infinite Disk is designed with "plug and play" and "set and forget" features.
Infinite Disk uses the revolutionary User Driven Storage to overcome the cost and complexity of storing large amounts of critical data on user sites securely and reliably.
No need for a team of technical personnel nor expensive hardware like in Software Defined Storage.
Universal Storage
Infinite Disk provides a trusted universal storage for all your data by orchestrating data storage across all hardware (RAM, SSD, HDD etc.), all software (application, container, host, remote etc.) and location (in device, on local area network, across wide area network).
Storage Capacity
ZFS is used as the default
Strip Capacity
Default has 6 storage units in each strip.
With the default 60GB storage unit, the MINIMUM capacities across all 3 strip types for an infinite disk:
3+3 strip = 130GB
4+2 strip = 180GB
5+1 strip = 220GB
The above has 20% free space and has slop space allocated, calculations performed using ZFS Capacity Calculator - WintelGuy.com