1. Affordable Cyberspace
Crowd Infrastructure eliminates the COST of Private Cyberspaces by leveraging Surplus Resources from each other and redirecting Data Income from Cloud Platforms to them. Everyone (no matter their skill or wealth levels) can now collect, store, process and distribute their data profitably and easily.
1.1. Crowd Infrastructure Design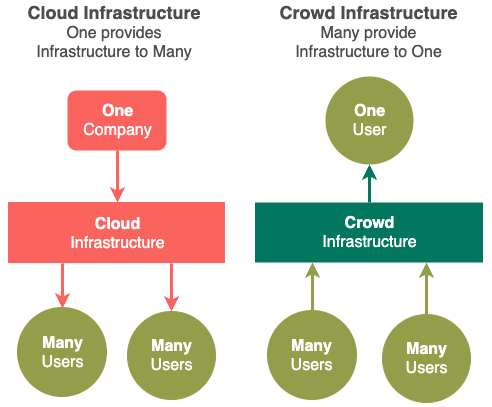 Breaking up your existing Cloud services that are ran by a handful of companies into thousands of sites all around the world can add a whole new dimension into your digital life.
Private Cyberspaces working together can transform the information landscape, Imagine Apple and Google working together! From a few friends backing up each other's data (infinitedisk.com) to millions of citizens controlling pandemics (virtualvaccine.me), the possibilities are endless.
Crowd Infrastructure has been developed to solve the Personal Privacy vs Virus Visibility Conundrum that has prevented rapid isolation of COVID transmission. The same capability can be applied in many areas, from controlling transmissible diseases to redistribution of excess food to polling public opinions to finding missing persons to alerting about active terrorist attack.